Nintendo
New Dragon-Filled Trailer for Monster Hunter Stories
---
Today lovers of the Monster Hunter series can rejoice because a new trailer for Monster Hunter Stories has been released. Full of new gear, new characters, and monsters. Monster Hunter Stories is a kid-friendly spinoff of the regular 3DS Monster Hunter series.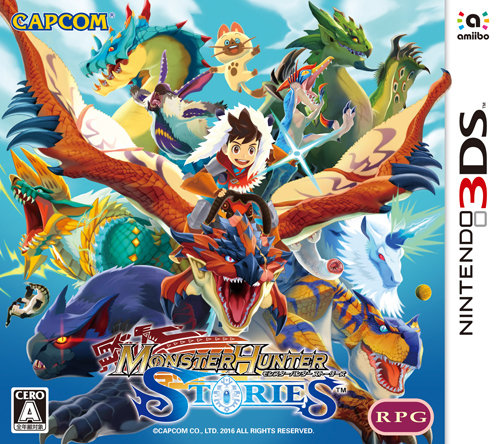 It is scheduled to release in Japan on October 8 along with three brand-new amiibo. Allowing players unique access to special monsters throughout the game, these amiibo seem like a must-have. One of the amiibo available is the protagonist's sidekick, Nabiru standing upright and smiling. The other two are the male and female protagonists mounting and riding the One-Eyed Rathalos. In addition to the three launch amiibo, Capcom has stated that they have plans to produce a second set of amiibo after release.
The bonuses don't end there. There will be two in-game exclusive costumes for Nabiru to wear. One has the feline accomplice in a Ratholis suit and is only obtainable in limited edition copies of Monster Hunter Stories. While the other has Nabiru in a Dinovaldo costume if the player has Monster Hunter Generations save data on their 3DS. The save data also unlocks a one-handed sword. There were also two other costumes shown, based off of a famous musician called DAIGO and a Sanrio character called Pompomporin.
Monster Hunter Stories is going to be featured on the next episode of Capcom TV which will air June 1 at 6:30 AM PT. But that's not the only time the series will be on TV. There will also be an anime called Monster Hunter Stories: Ride On. It's scheduled to air alongside the release of Monster Hunter Stories and broadcast regularly each Sunday after that. The official Monster Hunter website will update on June 2, with more information.